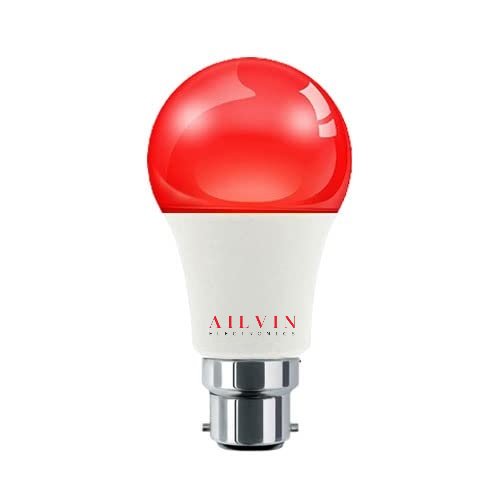 Red LED Bulb 9 Watt Base B22 for Indoor & Outdoor Decoration
₹210.00
₹170.00
Product Information
Lamp base- B22 holder

Pakage Include: Pack of 1 Red Led Bulb

Wattage: 9 watts

Operating Voltage: 220-240 volts

Low energy consumption and non-dimmable

Made in India

 
Illuminate your spaces with a vibrant burst of red using the Red LED Bulb 9-Watt (Base B22). Whether you're looking to add a festive touch to your home, create an eye-catching display, or enhance the ambiance of a special event, this LED bulb is the perfect choice for all your decoration needs.
With its sleek design and energy-efficient technology, the Red LED Bulb 9-Watt provides a stunning glow while keeping your energy consumption in check. It fits effortlessly into any B22 base socket, making it easy to install and replace your existing bulbs. Say goodbye to traditional incandescent bulbs and embrace the future of lighting.
Key Features:
Vibrant Red Glow: The Red LED Bulb emits a vivid red light, instantly transforming any space into a captivating environment. Let your creativity flow as you explore various lighting arrangements and add a touch of drama to your indoor or outdoor areas.

Energy-Efficient: With a power consumption of just 9 watts, this LED bulb is designed to be energy-efficient, helping you save on your electricity bills. You can enjoy the brilliant red illumination without compromising on sustainability.

Long-Lasting Durability: The Red LED Bulb is built to last. With a lifespan of up to 25,000 hours, it ensures long-term usage, reducing the need for frequent replacements. Spend less time worrying about bulb maintenance and more time enjoying the captivating ambiance.

Versatile Application: Whether it's for a cozy living room, a vibrant party, or an enchanting garden, this LED bulb is suitable for both indoor and outdoor use. Create an inviting atmosphere for gatherings, celebrations, or simply to add a splash of color to your everyday life.

Easy Installation: The Red LED Bulb features a standard B22 base, making it compatible with a wide range of sockets. Simply twist it into place, and you're ready to enjoy the warm, radiant glow it brings to your space.